Winter temperatures mean rising electricity and heating costs. That is an uncomfortable fact. Unfortunately, the solution is not as simple as simply heating less and putting on a thicker woollen jumper. After all: One of the decisive factors for whether or not we feel comfortable in our own four walls is the surrounding temperature.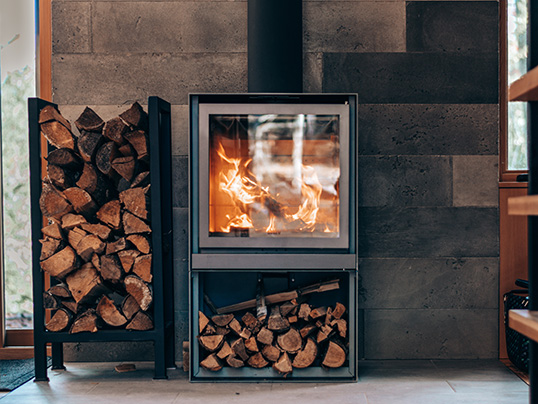 The warmer the better does not always apply
There are guideline values for a healthy indoor climate, whereby what is "healthy" also depends on the physical characteristics of the property. If the indoor and outdoor temperatures vary too much and the humidity is too high, the walls and brickwork may become mouldy, especially in rooms with a high humidity such as bathrooms or utility rooms and cooler rooms.
The recommended temperature for living rooms is between 68 and 72 °F, and for bedrooms it is between 61 and 66 °F, which promotes a restful sleep. If the bathroom is also being used as a wellness oasis, the feel-good temperature here starts at 73.5 °F. In the kitchen, bear in mind that the cooktop and oven are additional heat sources whose energy can also be used to raise the room temperature in order to reach the recommended 60 – 64°F.
Using energy sensibly and smartly
You can often save on heating costs by simply heating more efficiently. Thermometers help you check the actual temperatures in your home. Often these are significantly higher than the guideline values. Reducing the temperature by 37.4° can already achieve a total energy saving of 18 %.
During the day, when the occupants are out, the temperature in all rooms can be lowered to between 61 and  63°F. The temperature should not drop below this, otherwise there is again a risk of mould and heating up the house in the evening takes too long, which would also be an inefficient use of energy.
A possible alternative for bridging the uncomfortable half-hour warm-up period is infrared heating. It provides instant heat at close range, making it ideal for bathrooms or a home office during sedentary work. In principle, all heat sources should be free-standing and not prevented from radiating their heat into the room by curtains or sofas.
The consistent use of energy-saving lamps and the monitoring of appliances have a significant impact on the annual energy consumption. Switchable socket strips with save-energy switches are very useful here, because many electrical appliances in a household consume electricity even when they are not in use. This applies especially to older models. Timers can switch them off, as can modern smart home systems that can be controlled via an app while you are out and about.
Seal up gaps and draughts
Checking for possible leaks that allow built-up heat to escape unnoticed is another simple yet very effective way to save energy. In winter, warm air flows out of cracks in a home while cold air sneaks in. Therefore, check that windows and doors are properly sealed. You can easily carry out a candle test for this purpose. Professionals conduct a blower door test or use thermal imaging cameras to identify problem areas. If the windows are leak-tight, shutters, blinds or thick curtains can provide an additional layer of insulation at night.
All of the measures described are suitable for anyone who wants to save money, including tenants of apartment buildings, as they can be implemented easily and without altering the existing building structure.
New buildings and refurbishment – an opportunity to achieve energy efficiency
Whether you are planning a new building or renovating an old one, every building project geared towards the future should aim to achieve the highest possible standard of living and well-being with the lowest possible energy consumption to ensure a good ecological balance. Property owners or builders face different questions than tenants, which are more far-reaching in terms of the scope of the investment and always focus on the long term. It is advisable to seek professional energy advice and an expert opinion on the actual condition of your building. Then you can decide which changes make sense.
Is it enough to install new windows, or should the heating system be completely modernised or renewed? And what about insulation? If you want to sell a property, then at the latest you will also have to comply with the Energy Saving Ordinance. It stipulates that all the energy values of the building must be made transparent to the buyer in the form of an energy certificate.
If you are planning to build a new house or buy a property, you can opt for a low-energy house or passive house. In this case, you can expect the best possible energy values. Passive houses use heat exchangers and solar thermal systems. This is not only possible for new buildings, but also for old buildings that have been retrofitted with extensive insulation to achieve this standard.
A sensible addition for future-oriented heating systems such as heat exchangers and heat pumps is a photovoltaic system with energy storage and smart control, which takes over the entire energy management in the house.