CREATING A SPACE FOR DREAMS AND VISIONS TO ACHIEVE A SUCCESSFUL PROPERTY SALE
The decision to sell a property is far-reaching and needs to be well planned and executed. The concept of "home staging" originated in the USA, where it became established in the real estate market as early as the 1970s. It refers to the optimal "staging" of a property for sale for potential buyers. The knowledge that a purchase decision is often actually made in the first moments of viewing further clarifies the relevance of the proverbial "first glance".
Buying a house means leaving the well-trodden paths of the known, realising wishes and increasing the quality of life. This involvement of our dreams and emotions is an opportunity for the seller. If he succeeds in presenting his property in such a way that the prospective buyer can let his imagination roam free when entering the premises and visualise his own dream home there … then the course is already set for a successful conclusion.
Sales statistics show that properties prepared in this way will find a buyer twice as quickly as comparable properties that are not staged.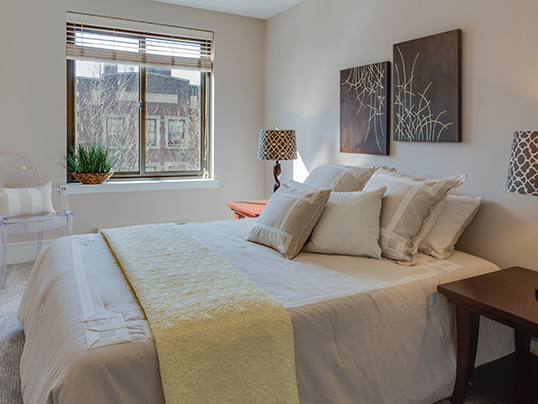 Cornerstones of successful home staging
A promising home staging concept manages to create a convincing balance between an inviting atmosphere and a neutral aesthetic. Of great importance for this is a professional lighting concept that is tailored to viewings in daylight as well as at dusk and after dark.
If the property is still occupied, it is advisable to create a neutral atmosphere as far as possible, despite any furnishings. This includes removing all visible personal belongings and replacing them with neutral decoration.
A more than thorough cleaning is called for. "Clean as a whistle" sums it up best, because viewers unconsciously infer the overall condition of the property from the cleanliness and quality of the interior.
The aim of home staging is to make the most advantageous and impressive aspects of your property visible to the widest possible range of buyers. An experienced stager will decide whether it can be sales-promoting to focus on a specific target group of buyers. Young families, for example, can be addressed by giving the children's rooms special prominence in the design.
Giving the individual rooms a function in the overall living ambience through home staging is also conducive to making the potential of the property more visible.
The garden and exterior of the house form part of the first impression. This includes the state of maintenance of all plantings as well as the facade and exterior lighting.
DIY or would you rather have the professionals do it?
Of course, it is possible to carry out home staging yourself with intensive preparation and planning. However, if you are very busy at work, or if you are not particularly interested in interior design, and you generally entrust garden maintenance to a gardening company, then hiring a professional agency is definitely recommended. You can find a selection of local providers on the Internet. Then comes the selection process of the agency you want to commission to present your property in the best possible light. During an initial consultation, ask to be shown a selection of previous projects with before-and-after photos and the corresponding figures.
Your real estate agency will also be happy to assist you in choosing an agency you can trust. It can recommend competent and reliable partners with whom it has already had good experience and who are a good match for you and your ideas.
What should be included in the staging package and what it costs
Before awarding the contract, have a complete catalogue of measures drawn up showing in detail which services are included in order to get from the current state to a presentation-ready property. A good agency will in turn work with partner companies that provide cleaning services and with handymen and gardeners, should their services be required. It will also coordinate the various activities.
Another important component of a successful sales process is the use of highly professional photographs in the exposé. Home staging agencies tend to work with photographers who specialise in this field. A complete package should include all these services.
The costs for home staging are negotiated individually depending on the scope of the assignment and are usually based on square metres. In our experience, they range between one and three percent of the targeted sales price. Since this can be up to 15 % higher with home staging than without, the investment is definitely worthwhile.