So, you're hoping to buy or sell a home in 2021 and want to know how the housing market forecast looks—especially after such an unpredictable year. Well, keep in mind that no one can predict what's going to happen with 100% accuracy. But we can check out what real estate trends are happening and make some guesses about the future from there. (Hint: It's still looking strong!)
Remember, housing market predictions can only give you an idea of what to expect if you buy or sell a house this year. But never let them control your housing decisions—only your personal situation and finances should do that.
With that said, let's take a closer look at how the market is doing.
Your Housing Market Forecast for 2021
The housing market in 2021 is continuing to explode like fireworks. Experts are seeing a post-pandemic rebound—we're talking steady mortgage rates, job recoveries, and the law of supply and demand all working together to make home sales go kaboom!1
That's right, forget the slow start to 2020 where all the unknowns of the pandemic outbreak had home buyers and sellers feeling a bit shy about pulling the trigger. Now there's high demand with super low inventory, and pent-up buyers are scratching and clawing to enter the market.
Toward the end of 2020, real estate gurus projected that low mortgage rates and the rise of remote workers with flexible schedules would keep home sales booming. Comparing those predictions with the numbers from the first quarter of 2021, it looks like reality is beating out expectations. Take a look:
| | |
| --- | --- |
| Housing Market Predictions | 2021 |
| Existing home sales | Up 9% |
| Newly built home sales | Up 21% |
| Home prices | Up 8% |
| Mortgage rates (30-year fixed) | At 3%2,3 |
| | |
| --- | --- |
| Housing Market Data | Jan – Mar 2021 |
| Existing home sales | Up 12% YOY |
| Newly built home sales | Up 37% YOY |
| Home prices | Up 16% YOY |
| Mortgage rates (30-year fixed) | At 3%4,5,6 |
Okay, so if you're looking to buy a house right now, those first-quarter numbers may seem a bit scary—especially with the national median home price soaring in a record high increase since 1989!7 Putting that into dollar signs, the average home cost rose to $319,200. That's nearly a $45,000 jump in price compared to the first quarter of 2020!
But, buyers, take a deep breath. Don't let the data squash your dream of buying a home just yet! Remember that these numbers are only based on the first three months of 2021. Plus, those percentage changes are compared to what was happening in the beginning of 2020, and we all know there was some weird stuff going on back then. So it's not totally crazy to see big changes.
Also, keep in mind, these numbers will probably change here and there as experts crunch new data. But the bottom line will mostly stay the same: Home sales and prices are likely to stay higher in 2021 compared to last year.
Plenty of Home Buyers Continue to Enter the Market
Real estate agents across the country were asked to describe their market based on how many buyers were looking and how many sellers were selling. Check out the map to see how hot the buyer traffic looks in your neck of the woods: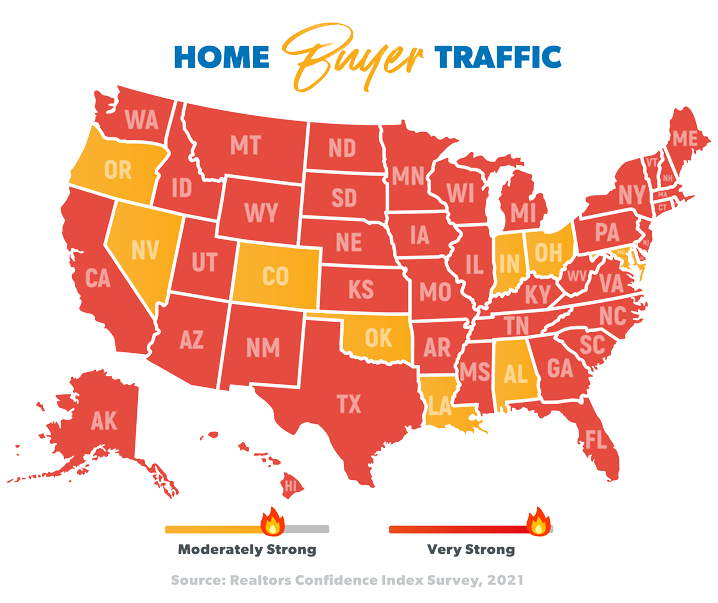 Realtors say that sales went from hot in February 2021 to even hotter in March. Each home that sold had an average of more than four offers!8 And it looks like buyer traffic is remaining strong throughout most of the country, which is a great sign for sellers.
Not Enough Homes Will Be Listed for Sale
On the other hand, the number of homes actively listed for sale was down 52% in March 2021 compared to last year.9 The next map shows how the majority of markets are looking somewhat slow when it comes to seller traffic—so buyers will have to work harder to find their dream home.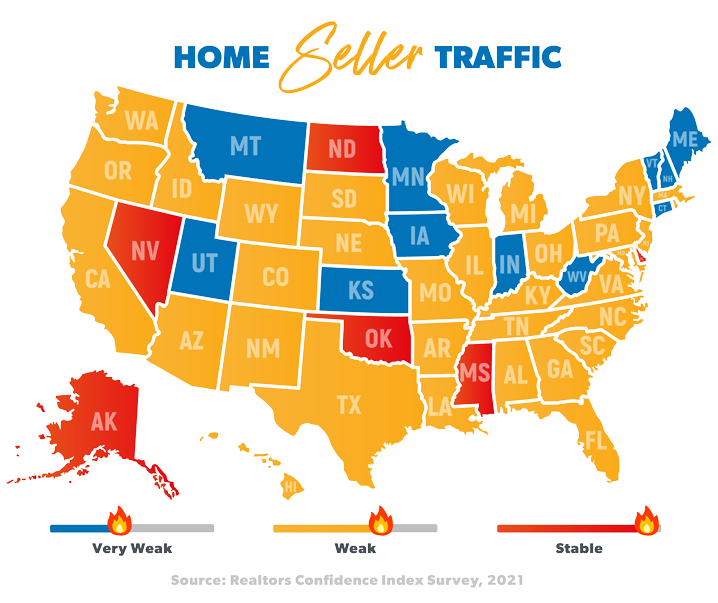 How Fast Are Homes Flying off the Market in 2021?
Before the start of 2021, existing homes were typically on the market for 21 days—meaning houses were plucked off the market two weeks faster than the typical 38 days from a year ago.10 And we're now seeing homes sell even faster than that, typically selling within 18 days on the market.11 That's another new record!
Now, this is great news for sellers who are itching to get their homes sold fast. But buyers need to stay focused! You don't want to drag your feet once you find the best home because it'll likely be gone if you wait too long to commit.
Of course, every market is a little different. Here's a state-by-state breakdown so you can see about how many days existing homes stayed on the market in your area: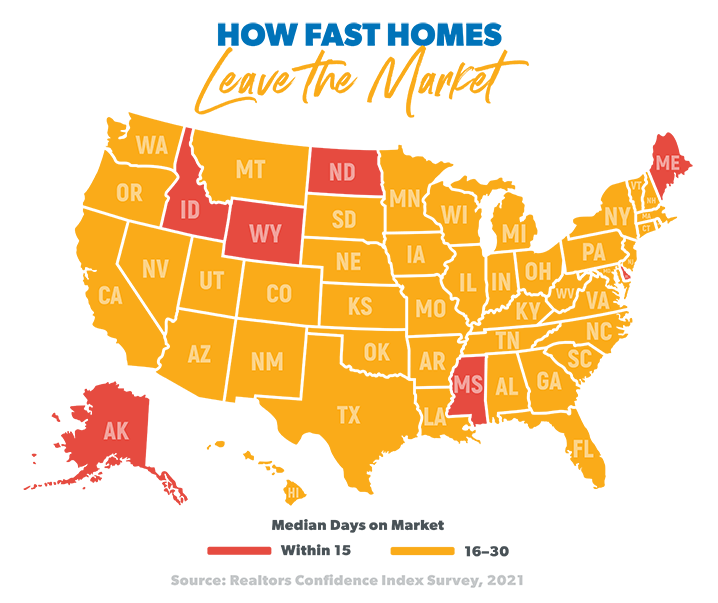 Will There Be a Lot of Foreclosures in 2021?
Early projections showed that 225,000 to 500,000 homeowners across the country might face foreclosure (eviction for missing mortgage payments) in 2021.12
Though the government put a temporary ban on foreclosures and evictions to provide housing relief during the pandemic, we're starting to see foreclosures tick back up—but only on vacant and abandoned properties.13
There were 33,699 U.S. properties that had foreclosure filings in the first quarter of 2021—that's a 9% increase from the last quarter of 2020, but it's still down 78% compared to the same period last year.14
Why are experts predicting an increase in foreclosures? Well, those projections are mostly based on job losses connected to the pandemic. After all, the government ban on foreclosures won't last forever. And imagine how hard it'd be for a homeowner to keep up with mortgage payments after losing a stable job and income. If that's you, hang in there! There's more you can do to avoid foreclosure, like tightening up your monthly budget and finding multiple jobs.
On the other hand, what do more foreclosures mean for home buyers? You might find a sweet discount! But keep in mind, buying a foreclosed home could come with its own set of potential issues. So make sure you do your homework on the house and know what you're getting yourself into before you buy.
Is the Housing Market Going to Crash in 2021? What About 2022?
It's pretty unlikely that the housing market will crash in the next two years. Remember, home prices have already seen a 16.2% increase in 2021, more than doubling original predictions.15,16 That's a good thing for the economy!
Back in 2020, experts projected that home prices would keep increasing in 2022, growing at a slightly slower rate of 5.5%.17 But after seeing how far off predictions were for 2021. . . well, who knows what's going to happen.
So, when is the market expected to crash? Here's the deal. As long as new buyers continue to enter the market and there aren't enough homes for sale to meet demand, home sales and prices will continue going up, and the market should stay healthy.
On the other hand, if the number of houses for sale was crazy high and the number of buyers willing to buy them suddenly plummeted, home prices would get slashed—and that's when a crash would be something to worry about.
What Does This Mean for Home Buyers in 2021?
Okay, it looks like you'll need to bring your A game if you want to buy the home of your dreams this year. With more buyers than sellers, you'll probably be up against some heavy competition, and you might have to gear up for a bidding war. But don't worry—there's a bright side for buyers too.
If you're getting a mortgage, you might still be able to get a low interest rate in 2021. The annual average interest rate for a 15-year, fixed-rate mortgage in 2020 was only 2.61%—the lowest it's been since Freddie Mac started reporting nearly 30 years ago!18
The way things are looking, rates seem like they'll stay pretty low through 2021. That means you'll probably still have a good chance of locking in a lower-than-average one. A low rate means a lower monthly payment and less of your money going toward interest over the life of the loan. Woo-hoo!
Another bright side: Many experts anticipate housing inventory will climb by 43% in the second half of 2021, which means you'll be fighting less people for your dream home—if you can hold out for it.19
What Does This Mean for Home Sellers in 2021?
Sellers out there can feel pretty good about 2021, but if that's you, you might want to put your house on the market sooner rather than later while inventory is still low. There are plenty of buyers out there, but experts are predicting more people will sell within the next year, meaning you'll have more competition.20
If you work with an experienced agent, you'll be able to set the best home price and find the right buyer. With an expert by your side, you should have no problem selling your house at a great price this year.
Housing Market Predictions for 2022
Right now, the housing market is red hot, with many homes selling above value simply because there are tons of buyers and not enough homes for sale. Is that going to continue through 2022?
Well, of course, no one can know for sure. In a Zillow research study, more than 69% of real estate gurus surveyed said they expected more houses to go up for sale in the second half of 2021 or the first half of 2022.21 And if more homes go up for sale, home prices should cool down too. Experts are predicting annual home value growth to slow to 4.5% in 2022 and continue a downward trend through 2025.22
How to Buy or Sell With Confidence in Any Housing Market
The housing market isn't known for being simple to predict. That's why it pays to have a trusted professional in your corner. To connect with an agent who has weathered the storms of real estate, try our Endorsed Local Providers (ELP) program. We only recommend top-notch agents who help you crush your housing goals—no matter what the market is doing.
ABOUT THE AUTHOR
Ramsey Solutions